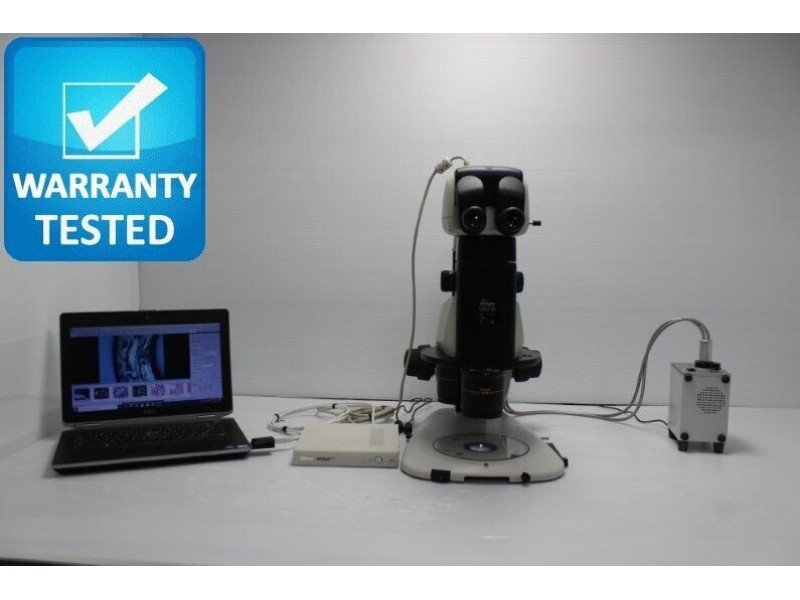 Nikon DS-Fi1 Microscope CCD Camera Pred DS-Fi3
Stock:

In Stock

Brand: Nikon
Product Code:

30359
Here is a Nikon DS-Fi1 Microscope CCD Camera Pred DS-Fi3

Predecessor to:
Current model is DS-Fi3

Condition:
This Nikon DS-Fi1 Microscope Camera is in good working order.

Please see exact photos below.

Testing we performed:
The Nikon DS-Fi1 Microscope Camera passed all tests and was found toe be fully functional:
Tested camera power: PASSED
Tested live feed with software: PASSED
Tested Image Capture: PASSED
Tested long run time: PASSED

System consists of:
Nikon DS-Fi1 Microscope Camera
Digital Sight DS-U3 Controller
Communication cables and power adapters.

Please note: the listing is for camera with controller only - microscope not included, used for testing purposes

Configuration and Setup:
Sensor Type: CCD
Resolution: 5MP
Active Resolution: 2560 x 1920 pixels
Pixel Size: 4,65um x 4,65um
Computer Connection Type: Firewire
Bit Depth 12-bit
Frame Rate: 4.4 to 23 fps

Documentation:
Manual: https://drive.google.com/file/d/15ycdJ1iozNaYPvr7V4OIlUbGtQJUvqnS/view?usp=sharing

Please do not hesitate to contact us if you have any questions.