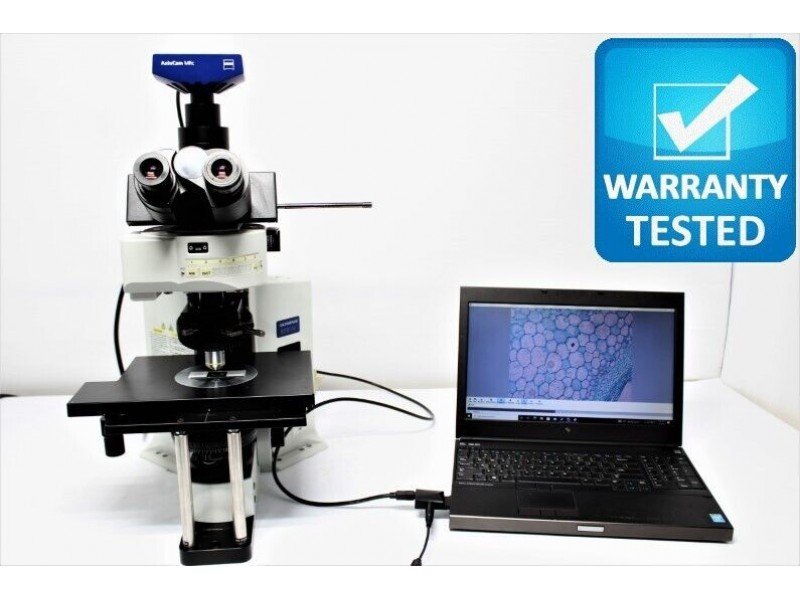 Zeiss AxioCam MRc CCD Microscope Camera Unit2
Stock:

In Stock

Brand: Zeiss
Product Code:

30257
Here is a Zeiss AxioCam MRc CCD Microscope Camera Unit2
This camera is a great choice for the following applications
- Differentiating fine color gradations
- Acquiring high-quality color images for differentiated diagnoses or analyses
- Convenient focus and navigation of samples in microscopy
- Acquisition of high-contrast, repeatable imaging with no disruptive image noise
- Documenting living organisms
-Suitable for Fluorescence
Condition:
This
Zeiss AxioCam MRc Microscope Camera
is in good working condition with clear imaging.
Please see exact photos below.
Testing we performed:
The
Zeiss AxioCam MRc Microscope Camera
passed all tests and was found to be fully functional:
Powers on: PASSED
Clear Image Capture: PASSED
System consists of:
Zeiss AxioCam MRc Microscope Camera
Firewire communication/power cable (camera will require a Firewire 400/1394a) port on your computer.
If you are using a desktop computer, many computers will already have necessary Firewire 400 port or it can be added via inexpensive PCI-E card you can install yourself.
If you do not have computer we can supply laptop setup with camera software and firewire card for $400.00
Please last camera photo shows what the Firewire/1394a port looks like so you can check your computer and verify it has correct port or one needs to be added.
Please note: the listing is for camera only, does not include microscope and laptop - used for testing purposes.


Configuration and Setup:
Sensor: Sony ICX 285, progressive readout, with RGB filter mask - Sensor size Chip area 8.9 mm x 6.7 mm, equivalent 2/3"
CCD Basic Resolution: 1388 x 1040 (1,4 megapixels)
Spectral Range approx: 400 - 700nm, BG 40 IR protection glass
Dynamic Range typical: > 1 : 2200 (> 66.8 dB)
CCD Cooling: one stage Peltier cooling
High dynamic and color range of more than 1 : 2200 at 3 x 12 bit RGB
A 2/3" CCD sensor with a pixel size of 6.45 x 6.45um and RGB color filters with optimized color space for extremely natural color reproduction
A high-quality live image that is updated up to 38 times per second, with focusing aid
An active dark current compensation and Peltier cooling
A mode for rapid time lapse imaging with time-separated color computation
Documentation:
Manual:
https://drive.google.com/file/d/1r45PtRd6Wd9_T99DMaErSTyQLV6hnr-X/view?usp=sharing
[[Contact US MESSAGE LONG]]
All equipment warranty request must have a support case opened within the 60-day Domestic USA and 30-day International warranty period.
To open a support case, please send an email to support@microscopeguru.com or call (617) 397-3486.
Please provide your name, contact information, quotation/invoice number and a brief description of the issue that you are experiencing.
Phone and/or Email support will be provided prior to scheduling a return.
Please see the link below for our detailed warranty statement.
Customers must retain all original shipping materials during the warranty period.
Here we are showing you our standard packing process
1. All items are different, but they all follow the same principle when packaging.
2. Start with a well-constructed crate
A well-constructed crate would consist of 1/2" to 5/8" Plywood with framing. We generally purchase our crates from a third party who specializes in custom crates.
3. You always want the Instrument to not be directly on the wood deck of the crate. This is done by placing it on foam, inside of the crate. We use 2" 1.7 lb. density foam which works great. It provides cushioning and enough firmness to support the Instrument.
4. The next step is to make sure there is nothing on the deck of the Instrument and the Head/ Arm is secured. In some cases there will be multiple arms to secure but for this example there is only one. The reason for this is so there is no free movement during transit which could cause serious damage to the Instrument.
5. The next step is to make sure your Instrument is covered in either a pallet bag or shrink wrap so no dust or foreign object will get into the crate.
6. The next step is to secure the instrument inside the crate by bracing. We use a method of 2x4's which have 1" foam shrink wrapped to them so no piece of wood touches the actual instrument.
7. Final step is to photograph everything inside the crate and then seal it with screws.